In order to facility more rapid experimentation with and distribution of Panel extensions I've created and now launch the awesome-panel-extensions package.
The intent is to share extensions that maybe do not fit into Panel it self but have interest for me or the community or alternatively some extensions that might not be ready for Panel yet but needs to get out there and receive feedback to eventually reach a level where they can be contributed to Panel.
But who knows how this will develop over time.

Please note that some of the extensions might make their way to Panel, a separate package, be deleted or change over time. So if you get something working consider whether it is important to pin the package version or maybe just copy the code into your project.
Feel free to share your comments, suggestions, ideas etc. Feel free to help improve the documentation, contribute your own extensions etc.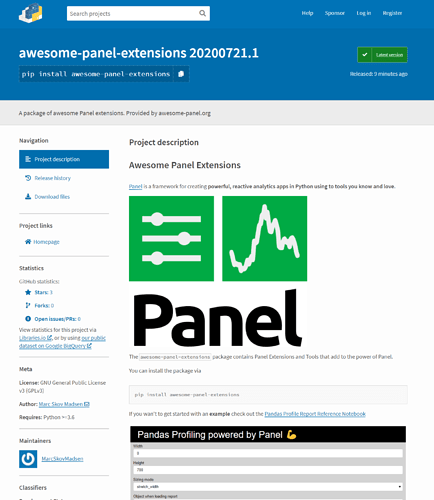 Repository: https://github.com/MarcSkovMadsen/awesome-panel-extensions
PyPi: https://pypi.org/project/awesome-panel-extensions/
Docs: https://awesome-panel.readthedocs.io/en/latest/packages/awesome-panel-extensions/index.html