Hi,
I'm trying to build a POC app with a map (plotly.choropleth_mapbox) that updates given inputs from widgets (a slider, a text box, a dropdown). The map appears to reload, (blinks) but does not update with any of the information.
In searching docs for an answer I see that even the examples from the documentation
(https://panel.holoviz.org/getting_started/Introduction.html) do not update.
I can see the chart, I can toggle the widgets, but the chart does not update.
import panel.widgets as pnw

variable  = pnw.RadioButtonGroup(name='variable', value='Temperature', 
                                 options=list(data.columns))
window  = pnw.IntSlider(name='window', value=10, start=1, end=60)

@pn.depends(variable, window)
def reactive_outliers(variable, window):
    return find_outliers(variable, window, 10)

widgets   = pn.Column("<br>\n# Room occupancy", variable, window)
occupancy = pn.Row(reactive_outliers, widgets)
occupancy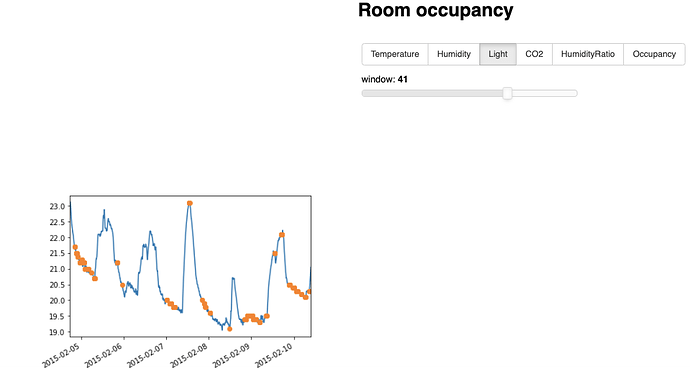 I can't seem to find any examples from the docs that will update the chart to make it responsive to inputs.
plotly 4.14.3
panel 0.10.3
hvplot 0.7.0
holoviz 0.11.3
nodejs 10.13.0
jupyter lab 2.2.6
Mac OS 10.15.6