Hi
I'm trying to implement a custom FastButton based on the fast-button web component.

The strategy is to inherit from the existing Panel and Bokeh button classes. But I cannot get it working. And I don't know where to look.
The .gif shows where I am. The problems are that
Nothing happens when I click or select before I refresh the browser.
When I refresh after having selected a new appearance I get a bokeh.min.js?v=16636fdaaea87a3216e9adf3b34ca3c7:551 [bokeh] Failed to repull session Error: property awesome_panel_extensions.bokeh_extensions.fast.fast_button.FastButton.appearance wasn't declared error. But as far as I can see it's declared in all panel and bokeh files.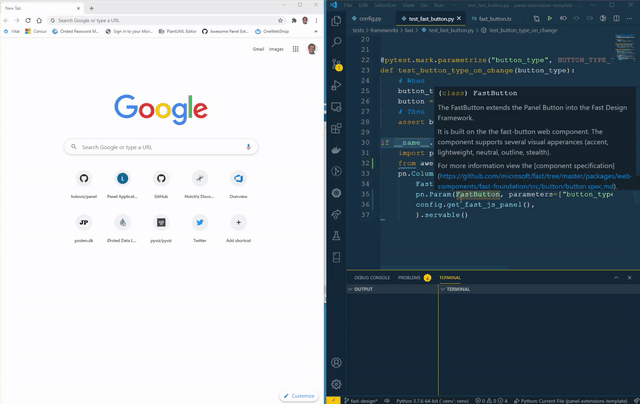 Code
bokeh fast_button.ts

import {Button, ButtonView} from "@bokehjs/models/widgets/button"

import * as p from "@bokehjs/core/properties"

export class FastButtonView extends ButtonView {
  model: FastButton
}

export namespace FastButton {
  export type Attrs = p.AttrsOf<Props>

  export type Props = Button.Props & {
    appearance: p.Property<string>
    autofocus: p.Property<boolean>
    }
}

export interface FastButton extends FastButton.Attrs {}

export class FastButton extends Button {
  properties: FastButton.Props
  __view_type__: FastButtonView

  constructor(attrs?: Partial<FastButton.Attrs>) {
    super(attrs)
  }

  static __module__ = "awesome_panel_extensions.bokeh_extensions.fast.fast_button"

  static init_FastButton(): void {
    this.prototype.default_view = FastButtonView

    this.define<FastButton.Props>({
        appearance: [p.String, ],
        autofocus: [p.Boolean, ],
    })
  }
}

bokeh fast_button.py
from bokeh.models import Button as _BkButton
from bokeh.core import properties

class FastButton(_BkButton):
    appearance = properties.String(
        default="neutral",
        help="The appearance attribute",
    )
    autofocus = properties.Bool(
        default=False,
        help="The autofocus attribute",
    )

panel fast_button.py
"""The FastButton extends the Panel Button to a Fast Design Framework Button.

It is built on the the fast-button web component. The component supports several visual apperances
(accent, lightweight, neutral, outline, stealth).

For more information view the [component specification]\
(https://github.com/microsoft/fast/tree/master/packages/web-components/fast-foundation/\
src/button/button.spec.md).

See also https://explore.fast.design/components/fast-button.
    """
import param
from panel.widgets import Button
from awesome_panel_extensions.bokeh_extensions.fast.fast_button import FastButton as _BkFastButton

FAST_BUTTON_APPEARENCES = [
    "accent",
    "lightweight",
    "neutral",
    "outline",
    "stealth",
]
DEFAULT_FAST_BUTTON_APPEARANCE = "neutral"
BUTTON_TYPE_TO_APPEARANCE = {
    "default": "neutral",
    "primary": "accent",
    "success": "outline",
    "warning": "accent",
    "danger": "accent",
}


class FastButton(Button):
    """The FastButton extends the Panel Button into the Fast Design Framework.

It is built on the the fast-button web component. The component supports several visual apperances
(accent, lightweight, neutral, outline, stealth).

For more information view the [component specification]\
(https://github.com/microsoft/fast/tree/master/packages/web-components/fast-foundation/\
src/button/button.spec.md).

See also https://explore.fast.design/components/fast-button.
    """
    appearance = param.ObjectSelector(
        default=DEFAULT_FAST_BUTTON_APPEARANCE,
        objects=FAST_BUTTON_APPEARENCES,
        doc="The appearance attribute",
        allow_None=True,
    )
    autofocus = param.Boolean(default=False, doc="The autofocus attribute",)

    _widget_type = _BkFastButton

    def __init__(self, **params):
        if "button_type" in params and "appearance" not in params:
            params["appearance"] = BUTTON_TYPE_TO_APPEARANCE[params["button_type"]]
        super().__init__(**params)

    @param.depends("button_type", watch=True)
    def _update_accent(self, *_):
        self.appearance = BUTTON_TYPE_TO_APPEARANCE[self.button_type]

app code
import panel as pn
from awesome_panel_extensions.frameworks.fast import config
from awesome_panel_extensions.frameworks.fast import FastButton
pn.Column(
    FastButton(name="Hello World"),
    pn.Param(FastButton, parameters=["button_type", "clicks", "autofocus", "appearance"]),
    config.get_fast_js_panel(),
    ).servable()