I would like to have a heatmap which meets the following requirements:
Specify limits and colors within the limits.
Ticks on the colorbar should be the limits specified above and depend on the data. For example, even if the data lies in [5, 10], if I specify a limits as [0, 100], then the colorbar should extend from 0-100.
Expected behavior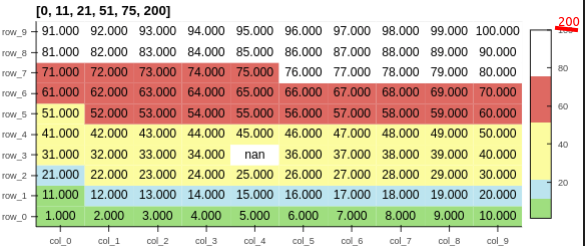 Of course in the above image, the colors will be linearly scaled.
Observed behavior
The above screenshot, but instead of the red 200.
The code for the panel is:
import holoviews as hv
import hvplot.pandas  # NOQA
import pandas as pd
import numpy as np

hv.extension("bokeh")

liststr_col = [f"col_{ind}" for ind in range(10)]
liststr_row = [f"row_{ind}" for ind in range(10)]
listfloat_quantities = np.arange(1, 101, 1).astype(float).reshape(10, 10)
listfloat_quantities[3, 4] = np.nan
df = pd.DataFrame(listfloat_quantities
    , columns=liststr_col, index=liststr_row
)

listfloat_color_levels = [0, 11, 21, 51, 75, 200]
liststr_cmap = ["#79de79", "#a8e4ef", "#fcfc99", "#fb6962", "#ffffff"]

dict_heatmapopts = dict(color_levels=listfloat_color_levels, cmap=liststr_cmap)

heatmap = df.hvplot.heatmap(shared_axes=False).opts(
    title=str(listfloat_color_levels),
    **dict_heatmapopts,
)
hvdim_value = hv.Dimension("value", value_format=lambda x: "%.3f" % x)
label = hv.Labels(heatmap, vdims=hvdim_value).opts(
    padding=0, text_color="black", text_alpha=1.0, text_font_size="11pt"
)
listplots = []
listplots.append(heatmap * label)
# listplots.append(heatmap * label)
gc.collect()
hv.Layout(listplots).cols(2)