I followed the glaciers example to build my first panel app. This example/live app refers to a Github link that contains the example code. However, there are different between the online app and the source code's final result. The online version has a header bar and a slider panel, which the Github link's final result doesn't. See blew fig1, 2,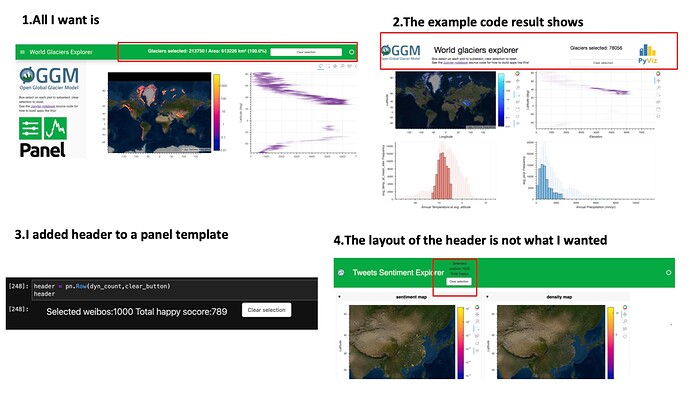 I try to use panel template to add the header by,


header = pn.Row(dyn_count,clear_button)
flt = pn.template.ReactTemplate(
                                    title='Tweets Sentiment Explorer',
                                   # header_background="F5F4EF",
                                   header = header,
                                  main= pn.Column(
                          pn.Row(pn.Card(geomap,title="sentiment map"),pn.Card(nu,title="density map")),
                           pn.Row(pn.Card(temperature,title="tweets counts"),pn.Card(precipitation,title = "sentimet distribution")))
              
                     ) 
flt.servable()

The header itself is shown in fig 3. When I served this app. I got fig 4.
I really want the text and the button in one row in the header so hard, but I have been stuck here for a while, can someone tell me how to layout them in panel? Thanks!