I'm getting very strange hvplot.xarray behavior when attempting to visualize a new Zarr dataset I created. I first thought something was wrong with the dataset, but the Matplotlib quadmesh da.plot() works fine: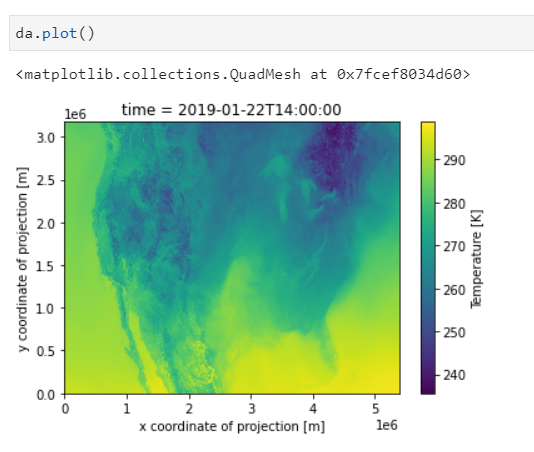 I extract a 2D DataArray from the dataset (and the 2D data has 300x300 size chunks).
Although the Matplotlib quadmesh da.plot() command works fine, attempting to use the quadmesh da.hvplot():
import xarray as xr
import hvplot.xarray
import fsspec

url = 's3://esip-qhub/noaa/HRRR/2019'
ds = xr.open_zarr(fsspec.get_mapper(url, requester_pays=True), consolidated=True)
da = ds.TMP_2maboveground.sel(time='2019-01-22 14:00')
da.hvplot()

gives the error:
ValueError: Object has inconsistent chunks along dimension y. This can be fixed by calling unify_chunks().

I can indeed get a plot by adding unify_chunks, but something clearly strange is going on: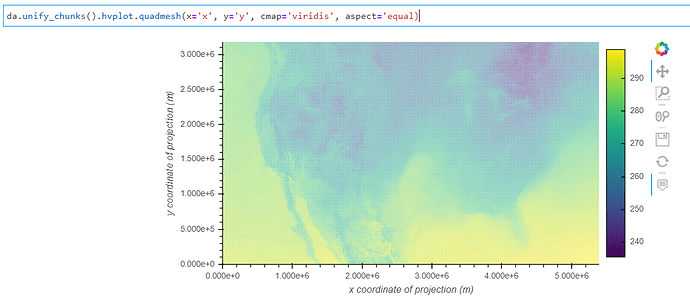 And if I add the rasterize=True, it looks even stranger: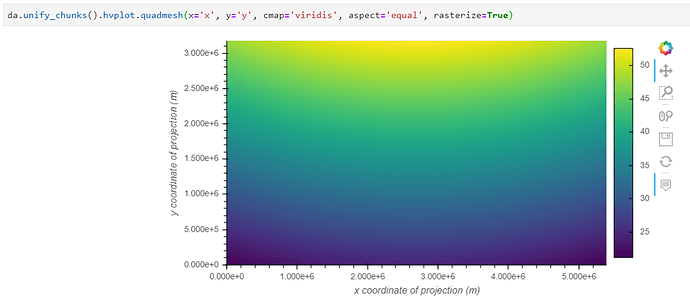 Here is the Full Notebook.
My versions are:
rsignell-usgs@jupyter-rsignell-2dusgs:~/shared/users/rsignell/HRRR$ conda list | grep -E --color 'geoviews|holoviews|bokeh|datashader|hvplot|xarray'
bokeh                     2.2.3            py38h578d9bd_0    conda-forge
datashader                0.12.0             pyhd3deb0d_0    conda-forge
geoviews                  1.8.2                      py_0    conda-forge
geoviews-core             1.8.2                      py_0    conda-forge
holoviews                 1.14.1             pyhd3deb0d_0    conda-forge
hvplot                    0.7.0              pyhd3deb0d_0    conda-forge
xarray                    0.16.2             pyhd8ed1ab_0    conda-forge