I have the following code:
import panel as pn
import param
import pandas as pd
import io

pn.extension()

file_upload = pn.widgets.FileInput(accept=".xlsx")

class DataSelector(param.Parameterized):
    select = param.Selector(["Please upload data"])
    unwantedButton = param.Event(label="Unwanted button")

    @param.depends('unwantedButton', watch=True)
    def refreshData(self):
        if file_upload.value:
            data = io.BytesIO()
            file_upload.save(data)
            data.seek(0)
            df = pd.read_excel(data)
            
            self.param.select.objects = sorted(df.columns.to_list(), key=str.lower)

data_selector = DataSelector()

pn.Column(
    file_upload,
    data_selector.param.select,
    data_selector.param.unwantedButton
).servable()

which produces a file selection widget, a dropdown menu and a button: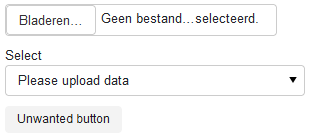 I now want to modify the code such that the button can be removed. I want updates to be triggered automatically when a file is uploaded. That is, I want to watch for changes of a global variable (file_upload) inside a param.Parameterized class. The function refreshData needs to be called every time a file is uploaded.
Ideally I would want to replace @param.depends('unwantedButton', watch=True) with @param.depends('file_upload', watch=True)