Hello fellow visualizers!
I'm having some trouble plotting some data into a bar chart. I'm hoping to have multiple vdims map to one kdim on the same plot and have the bars plotted next to each other. I'm also trying to get the plot to group according to an id number. So far I'm getting some wacky looking plots or not what I'm looking for and I was hoping I could get some assistance. Here's what I have so far:
# Pandas for data wrangling
import pandas as pd
# numpy
import numpy as np
# holoviews
import holoviews as hv
from holoviews import dim, opts

# Define bokeh as backend
hv.extension('bokeh')

# Upload data from .csv ... # 
# filter data I want... # 

day1_both = hv.Bars(
    data=day1consumption_df,
    kdims=['cage_id','subject_id'],
    vdims=['sucrose_consumption', 'water_consumption'],
).opts(
    height=600, width=600, xlabel="Subject ID", ylabel="Fluid Consumption (mL)", title="Day 1 Fluid Consumption (Individual)", 
    xrotation=45, tools=['hover']
)
day1_both

Attached is also what the plot gives me.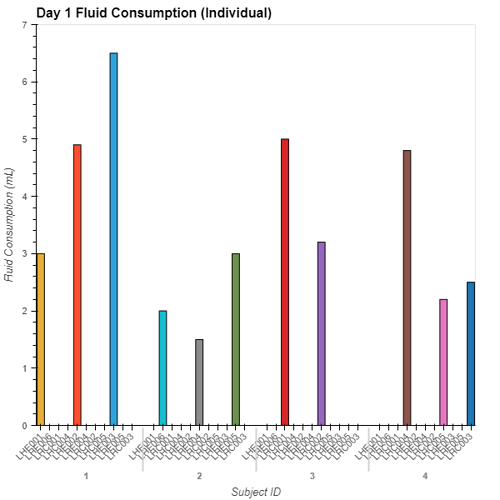 I'm only seeing one bar graph for sucrose consumption appear when I'm hoping to get, for the same ID, sucrose and water consumption side by side. Then I'm also trying to get only the members of each cage in the group, not the ones from other groups plotted. I've been pretty stuck for the past few hours so I figured I would reach out to the community. I'm new to holoviews and have done some basic stuff, but I've gotten stuck here so far. Any advice would be greatly appreciated! Thank you!
I would attach the data, but as a new user to this site I'm not allowed to!