Hello there
I have some questions on server deployment of a Panel app.
I am writing about my repo at https://github.com/mycarta/faults where I have a number of Jupyter notebooks.
In particular, the notebook Demonstrate_colormap_distortions_interactive_Panel.ipynb is my first Panel app. It is a small app to demonstrate perceptual effect of colormaps on some geophysical data.
I developed the notebook while following loosely the Panel Getting Started tutorial; I have on my machine (a mac running OS Mojave - 10.14.6) a virtual environment created according to the Holoviz Setup instructions.
When I run gspec.show() a the end of the notebook the app worked fine: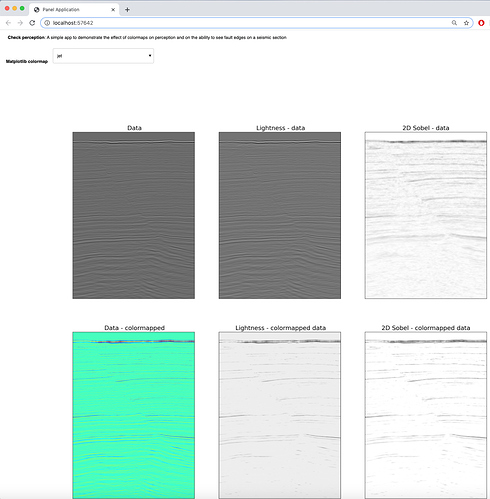 Next I commented gspec.show() and uncommented gspec.servable() and then on the command line (with the same environment) I executed:
panel serve Demonstrate_colormap_distortions_interactive_Panel.ipynb
What I see on the terminal is:
Starting Bokeh server version 2.0.2 (running on Tornado 6.0.4)
User authentication hooks NOT provided (default user enabled)
Bokeh app running at: http://localhost:5006/Demonstrate_colormap_distortions_interactive_Panel
Starting Bokeh server with process id: 49256
But nothing happens!
Has anyone seen this behaviour? Is there anything else in terms of system settings of requirements/dependencies I should be looking at?
After that I tried deployment using Binder.
I created this environment file:
name: faults
channels:
- conda-forge
- pyviz
- defaults
dependencies:
- numpy=1.18.1
- panel=0.9.5
- param=1.9.3
- python=3.7.7
- scipy=1.4.1
- scikit-image=0.16.2
I am reasonably sure I followed the correct procedure for Binder because when I click on the Binder button in the repo README, the (non interactive) notebooks in the repo work just fine on the Binder server.
However, when I use this link for the app:
https://mybinder.org/v2/gh/mycarta/faults/master?urlpath=/proxy/5006/Demonstrate_colormap_distortions_interactive_Panel.ipynb
I get this error:
404: Not Found
You are requesting a page that does not exist.
Any advice on how to proceed would be appreciated.
Thanks, Matteo