Issue
So, I am developing a dashboard usingb panel and hvplot but, I was shocked to see weird looking dashboard at the end and it turns out that the buttons, background color etc. (Javascript controlled elements) are not working.
I thought it might be the browser causing the issue but, no … It doesn't matter which browser I use; I faced the same issues on my machine.
However, when I run the same code in another machine. It worked perfectly.
So, then, I thought there should be some problem in my machine browsers. I cleared cache and all but, still the issue exists.
I am attaching the snapshots on how the dashboard look on my machine-1 (weird view) and machine-2 (expected view)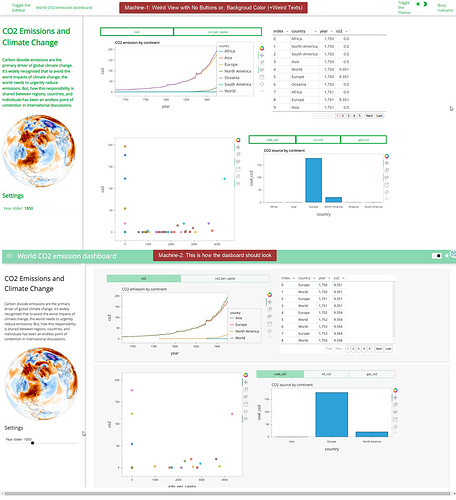 My Debug Tries
I tried several ways to debug this issue but, still no hope… The one major difference I noticed is when I "Inspect" the element in the "Console" tab.
In the Machine-2; where the dashboard looks as expected, everything is perfectly fine with no errors. However, in the Machine-1; I see the following error:
"Failed to load module script: Expected a JavaScript module script but the server responded with a MIME type of "text/plain". Strict MIME type checking is enforced for module scripts per HTML spec."
It would be great if anyone can help me in fixing this issue on my Machine-1 and why this is happening.
Thanks in advance.