Hello,
I am looking to create custom colormap steps. eg what .opts(color_levels=levels) does pretty much but rather than splitting on the levels I want each level to be equal.
For example I might have a colorbar that is equally spaced every 200m between 0 and 1000 then spaced every 1000 between 1000 and 6000.
I found this website that explains how to create a custom map which I have been able to apply with satisfactory results HOWEVER my colorbar is still normally scaled is there a way to "fix" this? Also I fancy something could be passed to holoviews.plotting.util.color_intervals to allow this sort of thing to be done automatically.
Basic result using color_levels:


Current Result using code from link above: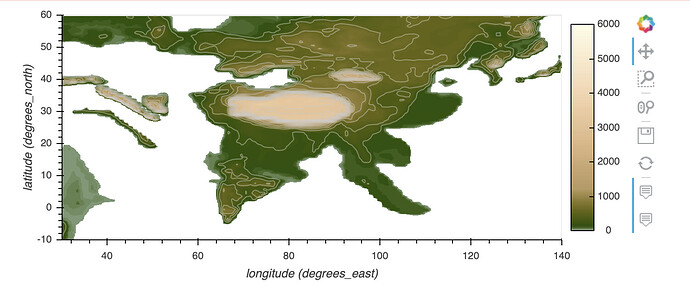 Desired Result (notice colorbar):