The Panel 1.0 release is finally here and it brings a huge number of improvements. The largest improvements in this release come from an upgrade from Bokeh 2.x to Bokeh 3.x. Bokeh overhauled its internal layout engine and stylesheet handling, making applications significantly more performant and customizable going forward.
This release marks a huge step forward in the usability of Panel but is also just a first step in leveraging many of the new capabilities that the updated layout engine and design system affords. In the coming months we will continue to improve and polish the UI and UX and make it easier for you to extend Panel as needed.
For now we want to thank the many people that contributed to this release either by contributing directly or by testing and providing feedback. Many thanks to the core contributors @MarcSkovMadsen, @Hoxbro, @maximlt, @jbednar, @droumis and @philippjfr and the outside contributors @ahuang11, @cdeil, @MridulS, @AndrewMaged814, @midnighter and @wendrul.
Demo
To see an overview of the most exciting features in Panel 1.0 check out this interactive slideshow we have prepared.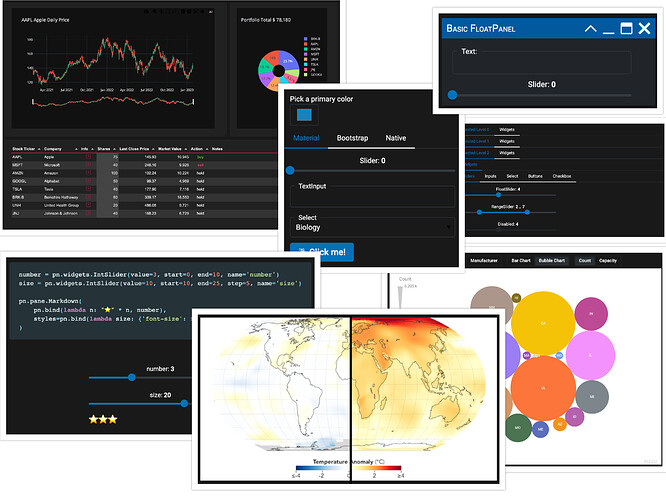 Installation
To install panel 1.0 simply get it with pip:
pip install panel==1.0.2

or with conda:
conda install -c conda-forge panel==1.0.2

Migration
Some of the changes related to the new layout engine and design system will require small updates to your existing applications. To make this transition as smooth as possible we have provided an upgrade/migration guide.
Major Features
The three main features we want to highlight as part of this release are:
New Components
This release also adds a number of exciting new components you can leverage in your applications:
Major enhancements
There are also a number of major enhancements in this release that we are very excited about:
Documentation
The last major change we want to highlight is a complete overhaul of the documentation, moving from long and difficult-to-navigate user guides to distinct easily applied how-to guides along with separate, longer explanation sections. We also put in significant effort to ensure that most of our documentation can be run interactively in Pyodide or JupyterLite.
Deprecations & API changes
Compatibility
Deprecations
API changes & Backward Compatibility
Other Enhancements
Configuration
Allow to set the log level of the Admin logger (#3495)
Add pn.state.served to simplify determining whether script is executed as an application or in an interactive session (#4252)
Add pn.config.loading_indicator to determine whether to show loading indicator by default (#4259)
Jupyter
Pyodide
IPython display compatibility in pyodide builds (#4270)
Ensure panel convert respects pn.config (#4359)
Fix notification support in Pyodide (#4387)
Miscelleanous
Bug fixes
Tabulator
Jupyter